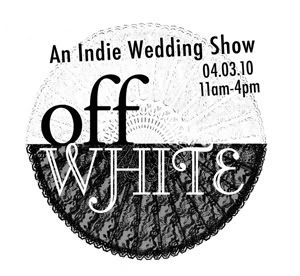 I just came back from the
Off White Wedding Show
and I had a great time. I had been to a "traditional" wedding show before and felt overwhelmed. I was not prepared to be bombarded with sales people trying to get me to sign up for things I did NOT want. This was much more relaxed and more like all the craft shows that I loved. I was much more interested in the vendors as well. At other bridal shows I didn't want anything the vendors had to offer. So here were my favorites from this show.
Ordained Designs
: Bethany Joan could design and plan your entire wedding. She was a super cute vintage style girl. She wore a yellow '40s dress and millinery piece that looked like it was made up of vintage items. She had the best table with a very sophisticated and different display of branches and flowers. Check out her link on facebook.
The Firecracker Press
: I give props to the two guys that were manning the booth. Their product fit in perfectly. They had a great display of invitations, posters and stationery. I loved it! They, of course, had the best postcards.
Janay A.
: This chica is from Kansas City. She makes the best ring bearer pillows I have ever seen! I need to save up to buy one of these asap. She also makes custom wedding dresses! She gave my mom and I a guided tour through the dresses that she brought for the fashion show. She was so cute. You need to check out her awesome website as well!
Fleuri
: This booth was so unique. These two girls make jewelry holders out of remnants of wedding dresses from alterations. They'll add unique antique items that they've thrifted or they can incorporate your own special items like heirloom buttons, hankies, broaches.